Solar Eclipse 20 March 2015
16/03/2015
On March 20, we welcome you to the spring with the observation of a partial solar eclipse.
The total eclipse will only be visible from the Faroe Islands and the archipelago of Svalbard. There concealment total lasts 2 minutes and 47 seconds. You can see almost total in Iceland, Scandinavia and Scotland. In the rest of Europe can be seen in varying degrees of bias depending on the latitude.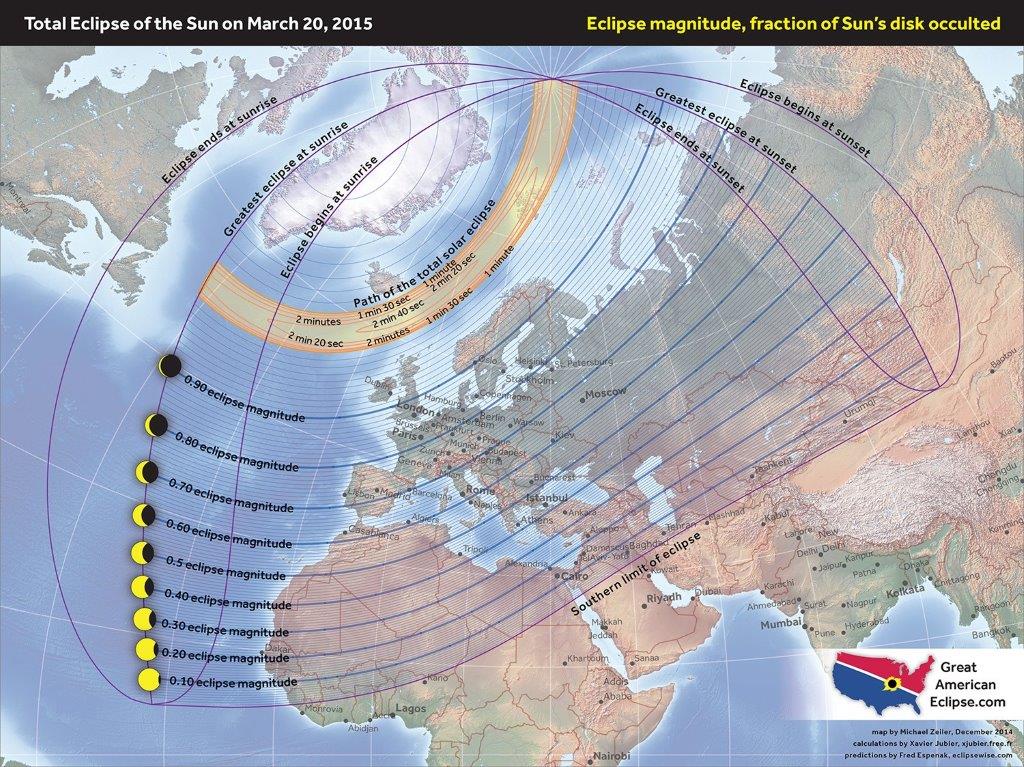 Around 9 am we see the moon facing the sun until partially covered. At 10:15 you can see the maximum concealment of the Sun, which will be 65%. From that moment the sun will "grow" up to the 11:20 hour in which the eclipse will end.
To safely observe the eclipse should remember the following tips:
Never look directly at the sun.
Neither you bring sunglasses, or through smoked glass, or photographic negatives, or X-rays much less with binoculars or telescope.
The fact of looking directly at the sun can damage the retina, reaching cause blindness. The first time you do not notice any pain, but if you look at the Sun continuously retina can be burning and symptoms can go hours later.
The best ways to observe the eclipse are using special glasses for watching eclipse, or the use of solar telescopes.

If you do not have these glasses, you can see the eclipse indirectly, using projection systems that can easily make yourself. Taking a card and making a hole with a needle can project the shadow of the sun on a white wall or other surface as another white cardstock. This way you will see the sun projected first round progresses and as the eclipse shadow projection take the form of the sun.
If you observe the solar eclipse safely, you can join us for the whole team that Federòptics Roure will observe the solar eclipse from the front of the lens with a solar telescope, and will have an indirect projection glasses especially to see it live.
And remember to protect yourself and observe the eclipse safely!